Configuring WooCommerce Settings – WooCommerce Docs
CREDIT – docs.WOOCOMMERCE.com
General
In the General sub navigation section, Measurements and Reviews allows you to enter weight and dimensions units for products, and enable/disable ratings on product reviews.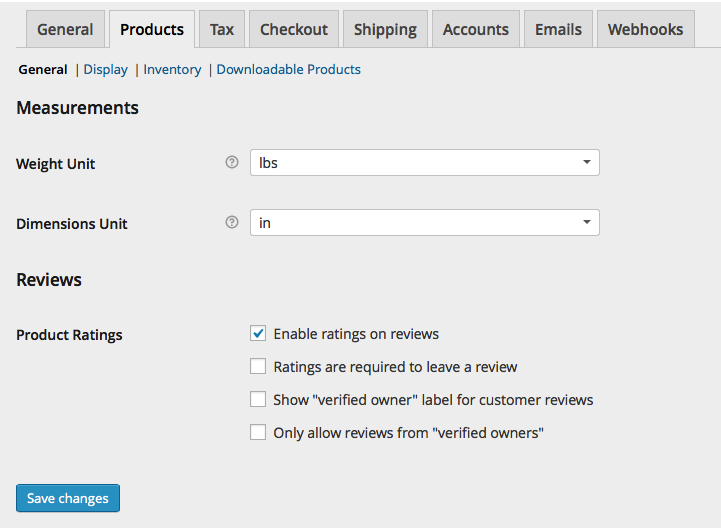 Product Ratings
Enable ratings on reviews.
Ratings are required to leave a review.
Show Verified Owner label for customer reviews. A verified owner is a customer who is logged in with their account and has purchased the product.
Only allow reviews from verified owners.
Display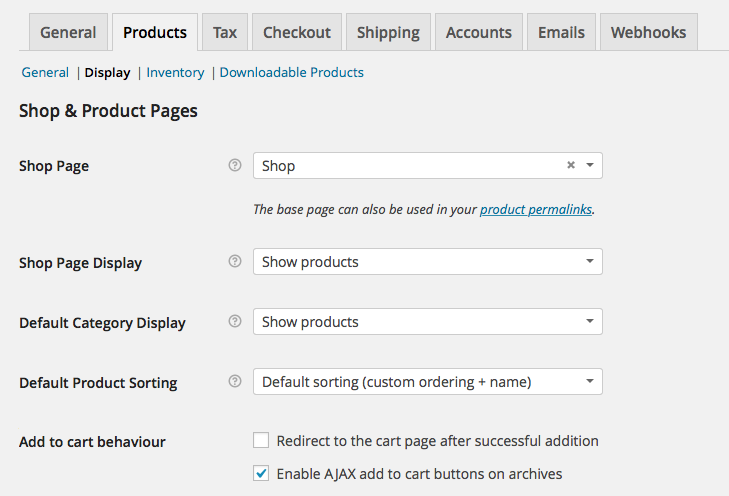 Shop Page/Product Archive
Select what page you want to be the default shop page. Need not be the Shop page that WooCommerce installed, or can be skipped if you use another method to display products.
Shop Page Display
Choose to show products, subcategories or both.
Default Category Display
Choose to show products, subcategories or both.
Default Product Sorting
Select to sort products by:
Default product sorting (custom ordering + name)
Popularity (sales)
Average rating
Most recent
Price (ascending/descending)
Any product with the product number 0 will display before 1. By default, all products are assigned 0.
Add to cart behavior
Redirect to cart page after successful addition – Automatically takes customer to the cart page upon adding a product.
Enable Ajax add to cart buttons on archives – Adds the 'Add to Cart' option to shop archive pages.
Product Image Sizes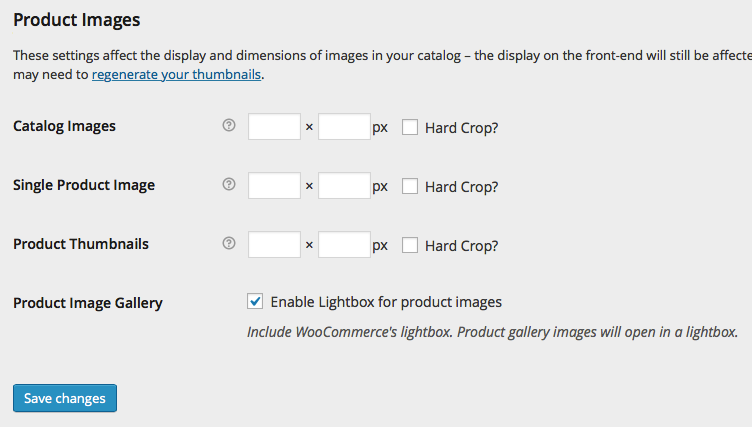 These settings affect the actual dimensions of images saved in your catalog once you upload an image – the display on the frontend will be overridden by CSS styles if applied. If you change these settings, you need to regenerate thumbnails for the new image size settings to be applied.
Options include:
Catalog Images
Single Product Image
Product Thumbnails
If you are having trouble with blurry product images, see: Using the Appropriate Product Image Dimensions.
Inventory Options
To edit your shop's inventory options, go to: WooCommerce > Settings > Product > Inventory.
Choose whether to enable stock management. If selected, you have these options:
Hold Stock (minutes) – Hold products (for unpaid orders) for X minutes. When limit is reached, the pending order is canceled. Leave blank to disable.
Enable low stock notifications
Enable out of stock notifications
Notification Recipient – Enter email address for notifications.
Low Stock Threshold – Number of products to trigger low stock notification
Out Of Stock Threshold – Number of products to trigger out of stock status.
Out Of Stock Visibility – Choose to hide out of stock items from catalog.
Stock Display Format

Always show stock – "12 in stock"
Only show stock when low – "Only 2 left in stock" vs. "In stock"
Never show amount
Downloadable Products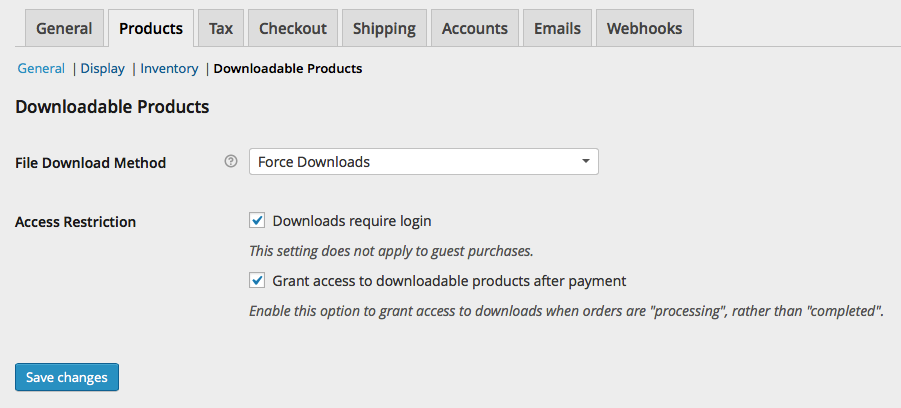 File Download Method
Controls how your store provides downloadable files to purchasers.
Force Downloads – Files are 'forced' to download via a PHP script. Files are not accessible to anyone but purchasers, and direct links are hidden.
X-Accel-Redirect/X-Sendfile – Similar to 'forced' above, but it has better performance and can support larger files. It requires that your hosting provider supports either X-Sendfile or X-Accel-Redirect, so you need to check with them first.
Redirect only – A download URL links the user to the file. Files are not protected from outside access.
Most stores should use one of first two methods to keep files safe from outside access. Redirect should only be used if you encounter problems or don't mind downloads being non-secure.
Access Restriction
Select if downloads require login – Does not apply to guest purchases.
Grant access to downloadable products after payment – Enable to grant access to downloads when orders are Processing, rather than Completed.